Manage ROI with LocalTrack from Newsday Connect
Businesses do best when owners actively participate in all facets of the company. LocalTrack gives you the advantage of having instant access to information that is completely comprehensive and easy to read. This information will help you make future decisions and ensure your company continues to thrive. When a company can actively gauge their return on investment, smarter and more informed decisions can be made going forward.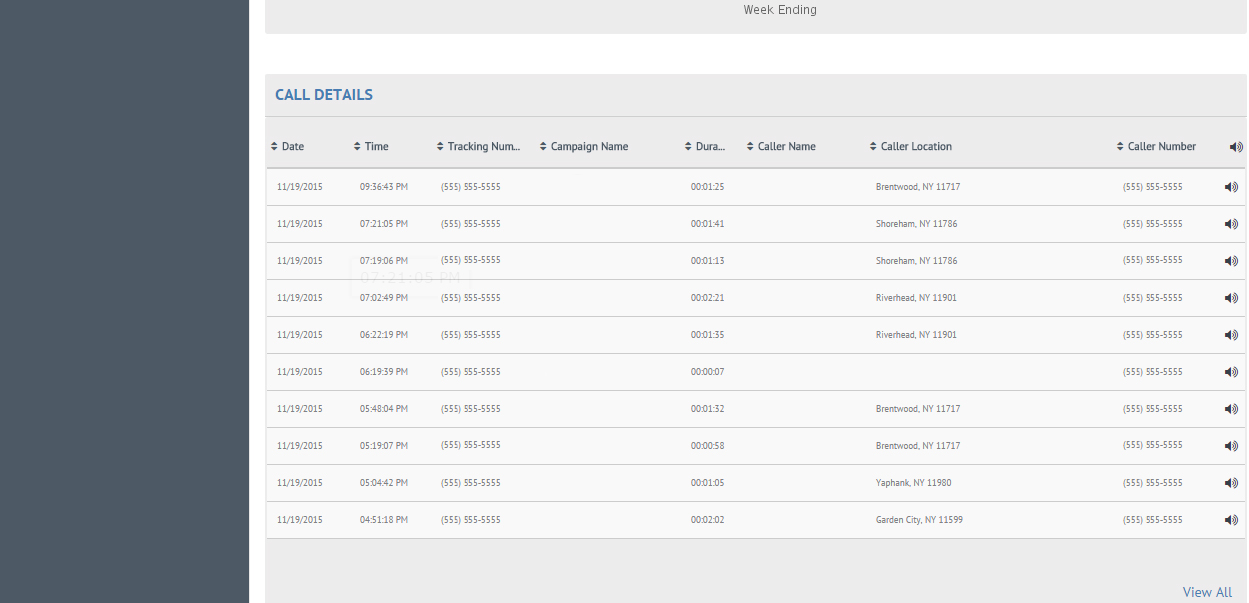 Full Control
LocalTrack lets you access information with just the click of a button and view only the data that is relevant to you at a particular moment.
Easy-to-Use Interface
We use programs that are quick to learn and easy to use. We understand the importance of offering our customers products that make their lives easier.
Up-to-Date Information
The Newsday Connect tracking programs provide information the second it becomes available, meaning that our users are getting the most current and up-to-the-minute data possible.
+

Live Updates

Up-to-the-minute reporting allows you immediate access to all of your information the second it becomes available.

Instantly Review Conversations
All phone calls are recorded and saved instantly. Enjoy the advantages of being able to immediately rewind and review your calls and listen to them at your convenience.


Watch Yourself Improve
As you continue to build your online presence and attract more potential customers, you'll be able to use our data to see how much you've grown over time.

The world moves quickly and people have come to expect services that deliver information quickly as well. Your time is important, and so is your customers'. If a potential customer cannot easily access your information, you have less of a chance converting this customer into a sale. LocalTrack guarantees that you'll always be getting the freshest, most current information whenever you need it. A quick, efficient and easy-to-use source of information is what you deserve and need.

+

Know Your Customers

Record and monitor the effectiveness of your campaign with reporting software used on telephone calls, emails and website visits.

Compare Data and Track Results
Enjoy the advantages of our easy-to-use software and compare individual results against themselves. You'll see which areas of your campaign work the best, and which can be improved.

Maximum Value
Rest assured you're taking advantage of the resources available to you by comparing value against all of your programs combined or against individual advertising programs.

Your company succeeds when you know which parts are working best. Using LocalTrack gives you honest, up-to-the-minute information about what is working and what isn't. A well-informed business owner can build a more successful business by using the tools and resources available to them.

+

Visual Data Summary

Enjoy the convenience of user-friendly graphs and charts that summarize data and allow you to monitor your campaign visually.

Track Progress Over Time
All LocalTrack data is in real-time, updated to the minute. Enjoy the advantage of using our data-plotting software that summarizes the growth and progress of your campaign.

Make an Impression
Bring your reports and presentations to life using LocalTrack. The graphs and charts produced are full-color, high-resolution images that can be copied, reproduced and re-used by you as often as necessary.

Analyzing, interpreting and exploring data doesn't have to be difficult any longer. The visualization of raw data by LocalTrack allows users to directly interact with their information and easily understand it. Users can extract our data and make adjustments to their business, allowing them to change and adapt with a more competitive edge.